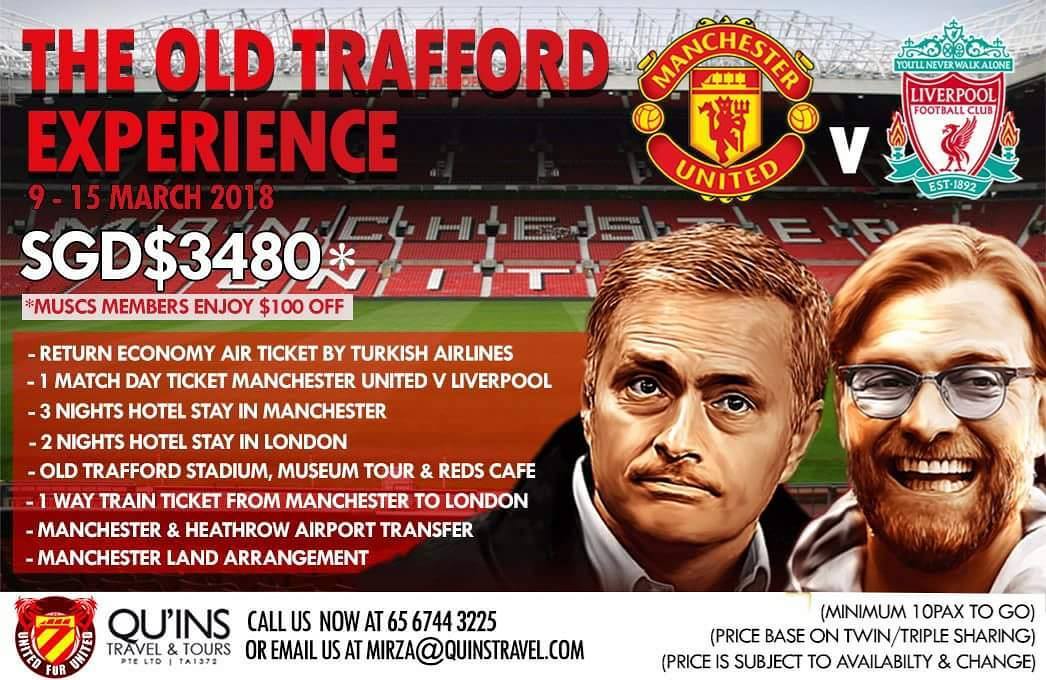 Come on Red Devils!!! As we announce our collaboration with Quinstravel, we would like you to grab this once in a lifetime opportunity to catch the match against our biggest rivals at Old Trafford on 10th March 2018.
Imagine how is it like to watch us trashing the Scousers at home. Catching the players LIVE is more breathtaking than catching it at any of your local bar or home television. So why wait?? 😍
Join The Old Trafford Experience Tour! 😈
Date: 9 to 15 March 2018
Price: SGD$3480*
(Price based on Twin/Triple sharing)
(Price subject to changes)
Tour Package includes:
🛫 Return Economy Air Tickets by Turkish Airline
⚽️🎫 1 Match Day Ticket (EPL) Manchester United vs Liverpool
🌃🛌💤 3 Nights hotel stay in Manchester
🌃🛌 2 Nights hotel stay in London
🏟 Old Trafford Stadium, 🏛Museum Tour and Reds Cafe
🚂 One Way Train Ticket from Manchester to London
🚌 Manchester and Heathrow Airport Transfer
🚐 Manchester Land Arrangement
Interested party may contact Mirza and quote "GGMU" at,
Phone: 67443225
Email: mirza@quinstravel.com
*United for United members will enjoy $100 off when you present your membership card at Quins Travel & Tour today!
#MUSCS #UnitedForUnited #MUNLIV#EPL #QuinsTravel #MUFC #Tourgroup#6D5N #TheOldTraffordExperience#OldTraffordStadium #LIVE #GGMU#Travel #UK #9to15March2018#Manchester #London #RedsCafe#MuseumTour #TurkishAirline